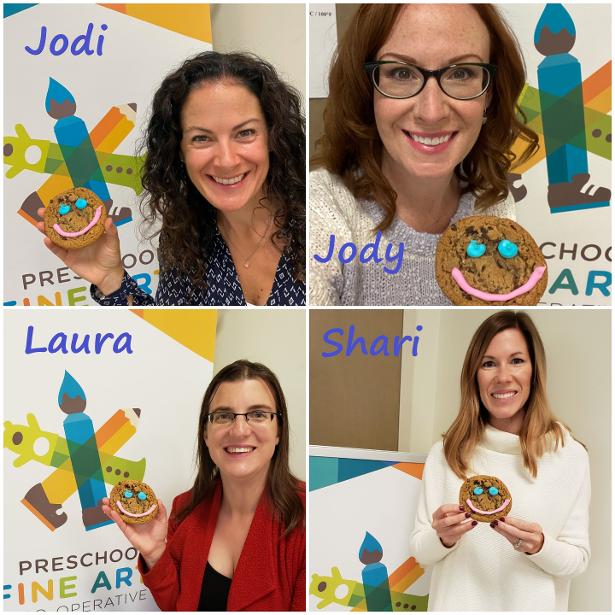 About Us
The Preschool Fine Arts Co-operative is a parent-run, not-for-profit organization. That means that the Preschool Fine Arts Co-operative is cost competitive with other pre-schools, while also providing exceptional educational value for your child. Our certified instructors adhere to the Preschool Fine Arts Co-operative philosophy of emphasizing creative artistic expression to encourage creative thinking and problem solving.
Our Philosophy Is:
· To provide a stimulating environment full of opportunities to experiment with materials and ideas
· To allow children the freedom to choose their own way of working and to choose the contents of their work
· To value the experimental process over the creation of an end product
· To stimulate thoughts and feelings which the children are encouraged to share with others
Jodi Sobool - Teacher / Coordinator
Jodi is the Teacher and Coordinator at the Preschool Fine Arts Co-op. Jodi has a Bachelor of Education degree (Elementary) from the University of Saskatchewan, as well as a Bachelor of Science in Kinesiology. She has spent a number of years as a classroom teacher, as well as a substitute teacher, before teaching preschool. Jodi has also been involved in coordinating children's programs with the City of Saskatoon and providing classroom assistance for children with special needs.
Jodi brings with her to this unique preschool program, experience as an elementary and middle years teacher, as well as having many years of piano and vocal training. Jodi's zest for life and new experiences is what drives her to continually explore new and creative ways for children to express themselves through movement, music, and visual art. All the while, she is preparing them for the introductory knowledge needed for Kindergarten. And when Jodi is not working, she is enjoying time with her family, running, participating in yoga, and volunteering in her community.
Jodi's family, who relocated to Regina in 2006, includes her husband, son, dog and two cats. Jodi spent a few years at home with her son, enjoying the rewards of being a full time mom. In 2009, when it was time for her son to start preschool, Jodi was drawn to the unique program of the Preschool Fine Arts Co-op. From there, she got involved in substituting for the teachers at the preschool and was then offered a part time position as the teacher's assistant. Enjoying the program and the young students so much, led Jodi to jump at the chance to continue with the Preschool as the Teacher/Coordinator in December 2012.
Jody Ramsay - Teacher

Jody is thrilled to join the Preschool Fine Arts Co-op as the teaching assistant for the Tuesday/Thursday morning class. She holds a Bachelor of Arts degree in Psychology and Religious Studies from the University of Regina and has taken a number of courses in teaching ESL from the U of S. Jody spent ten years working in various capacities for the RCMP; in addition to now teaching at the preschool, she holds the position of office administrator at Beth Jacob Synagogue.
Jody first became involved with the preschool in 2014 when her then-three-year-old daughter was enrolled as a student. Over the course of the two years that her child spent attending the Preschool Fine Arts Co-op, Jody served as a board member and frequently worked in the classroom as a substitute teacher. Since then, she's been an active member of the volunteer community at her daughter's elementary school.
Jody and her daughter are great animal lovers and share their home with a French Bulldog puppy named Midge, a Golden Retriever named Dora, and a part-Siamese cat named Bitsy. Jody loves to read, travel, sing, bake, take photographs, attend musical theatre performances, and go on outings with her dogs.
Laura French - Teacher
Laura is excited to become an assistant teacher this year. She holds a BA/B.Ed. from the University of Regina and taught in the Regina Catholic and Prairie Valley school divisions before staying at home with her children who attended the preschool. In her free time, she likes to read, cook, and travel.
Shari McCannel - Teacher
Shari will be assisting Teacher Jodi with the Tuesday and Thursday afternoon classes. She is thrilled to be joining the Preschool Fine Arts Co-op team this year after spending the last 8 years raising her children.
Shari has a Bachelor of Education degree (Elementary) from the University of Regina and also has a background in piano, having completed her Grade 8 piano through the Royal Conservatory of Music. She is married with a daughter and a son who have both attended the Preschool Fine Arts Co-op's exceptional program. Aside from her "mom" experience and background in education, Shari worked as a Manager of Marketing and Communications and has had past experience working with children through teaching skating lessons, babysitting, and running children's programming at a regional park.

In her spare time, Shari enjoys travelling, spending time at her family cabin, crafts and DIY projects, and reading with her kids.